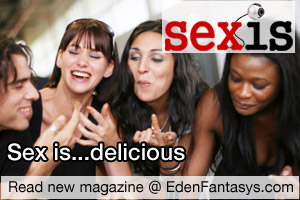 Ya'll know that I love to bring you awesome reviews and talk about the best experiences on this here place and space, right? Make no mistakes about it, if I think something is worthwhile, I'll talk about it on this blog. This blog is our platform so why the heck not, right?
Well, when I was approached by the blogger outreach coordinator from
EdenFantasys
to review their website, I must admit that I initially hesitated. Possibly because I thought of it as a sex cite and said to myself,
how on Earth am I going to write about sex?!
I mean, I'm single,
I've been through hell in my last relationship
, and there are no potential prospects in sight. None. At. All. What could I possibly say about my jazzy sex life, or lack thereof?
But, in an effort to experience a little more and move out of my comfort zone, I perused the EdenFantasys website and totally found my niche.
The
EdenCafe blog
is where it's at! With topics ranging anywhere from health and body image, relationships, and sexuality, there are so many good posts by real people who desire to not only
bring
the sexy back, but
preserve
the sexy as well. Like me. Like you.
This post
that talks about visualizing your life with the body you want, speaks to me. What better way to feel sexy and confident?!
And
this post
about the importance of surrounding yourself with positive and supportive people... hello! Is the author reading my mind or what?
So maybe my sex life isn't all that jazz --
yet!
-- but until then, there's always the EdenCafe blog to help me bring sexy back. And there's always
these cute little lingerie pieces
and
sensual oils, lotions, and candles
to help me preserve the sexy. All the way, baby!
So, delicious folks, I invite you to visit the
EdenFantasys
website with me so that you can find creative ways to bring sexy back because, based on your overwhelming responses to this post that I wrote a while back,
we ALL love ourselves enough
to preserve the sexy!
And that's gotta be empowering.
Owwsshhh!
Disclaimer: In an effort to bring my sexy back, I'm receiving a gift card from EdenFantasys in exchange for this review. All opinions expressed herein are my own. Yes, even those about my lack of a sex life and no prospects in site.